Let your imagination run wild!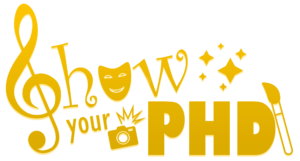 Show your PhD is a competition in which you can combine your
research subject
with your
artistic passion !
Created in the framework of Mons 2015, European Capital of Culture, the "Show your PhD" competition offers a platform for the cultural expression of science.
It is an opportunity for all scientists
to put their artistic sensibility at the service of science :
choose the medium that thrills you to popularise your research. The disciplines can be varied: drawing, painting, dancing, singing, video, music, cooking, macramé, humour… surprise us !
This year,
we are accepting proposals in teams
. This is the time to motivate your colleagues around a common project!
At the end of the presentation of your work, a
grand prize
will be offered to the person who will seduce our jury composed of experts in art and science. A
participation prize
will be awarded to all candidates.
Registration:
Send your application to Show Your PhD
before August 23
via this e-mail address:
mdc@umons.ac.be
Mention the name of the candidate (or team members), your research topic, the type of performance you plan to do and a few words on how you think you can link the two.
The competition rules are available
here
.
If you have any questions, please contact us at
marianne.durieux@umons.ac.be
or
elodie.andre@umons.ac.be
See you soon !